My NordicTrack strength training was jolted abruptly when the phone vibrated and shook inside my duffel bag.
It was Ebony my dispatcher. "Hey, how much can you carry?"
"40 to 45K," I replied without hesitation. With an empty fuel tank, my tractor weighs 18,000 pounds. A load of 45,000 pounds would keep my Gross Vehicle Weight easily under 80,000.
"Great, how do you like to go to sunny Florida?"
Been late April, the heat and humidity had yet to take a hold of the "Sunshine State". The image of large surf crashing on white sandy beaches put a smile on my face.
"As long as I pickup nearby."
"Well is Fedex Field close enough for you?"
I quickly left the fitness center at Joint Base Anacostia Bolling and headed to my truck.
The next day I found myself in Landover, MD, strolling the grounds of an expansive parking lot.
During football games, this place would be packed with 80,000+ raging Redskins fans and I would have to park several miles away and hike it uphill for the better part of an hour
Today, the crowds were way more diminutive and subdued, though big enough to fill up the Fedex Field parking lot
Over 35,000 tree-hugging fans of both hip hop and healthy eating gathered to meet with food and marketplace vendors, practice yoga, sample meatless hot dogs and enjoy the music of Lil Wayne and Childish Gambino during the Broccoli City Festival.
There were immersive activities, live art, educational workshops and lots of fitness all focused on the central goal of promoting health and sustainability for the inner city.
The music reverberating over the massive stadium blared heavy and loud across the parking lot as I sat restlessly in my truck trying to rest up for the long drive ahead but also high strung from all the commotion.
Sunset had long past. Still, traces of the sun's rays scattered like a spotlight over the horizon as the tracks of Lil Wayne and heavy bass pumped all around me. The staging equipment would not be disassembled and loaded until daybreak and had to be in Jacksonville in two days for another hard rock concert.
Fedex Field post concert with all the barriers fencing looked more like a truck driving school parking lot that a football stadium.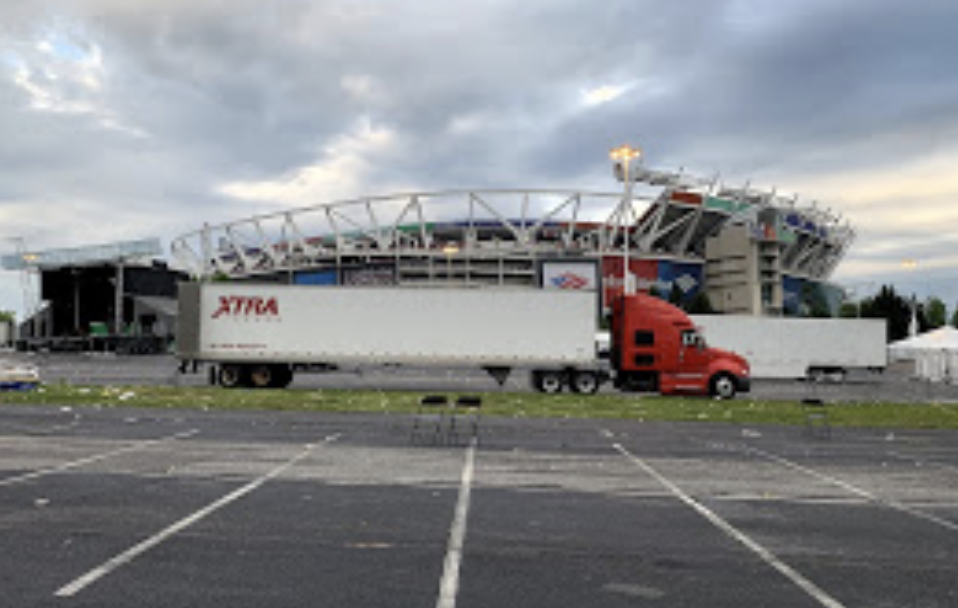 There was barriers and steel fencing everywhere and it took me a while to figure out how to come in.
I found my trailer stacked to the gills with sound equipment and it looked just as heavy as it was enormous.
But wait they were not done – there was more to load. One thing about event planners, they always want to push it to the limit.
"Your trailer weighs 58,000 pounds total," the loader mentioned. "I had it weighed coming down here."
"Dang, I would be driving over 900 miles with a very heavy load," I grimaced – and my very first one.
It wasn't until 8:30 before I could leave Landover, MD. So I had a chance to walk the grounds and peruse some exhibits.
Finally, I was on the road, hoping for an uneventful drive and wondered out loud if I was truly overweight. I was many miles from a scale and would be left in the dark for hours.
I had made it all the way to the Carolina when I heard a loud bang. It was pitch dark and I could barely make out heavy chunks of tire flying down the highway.
Luckily I made it to the closest truck stop, 40 miles away. It wouldn't be until the morning before I could get the drive tire changed and get back on the road.
Finally made it to Georgia and the moment of truth came near Darien, GA, when I was issued an overweight ticket. I was under the 80,000 pound limit but I exceeded the 34,000 lb limit on my drive axle. The fact that I had an Auxiliary Power Unit (APU) got me a reprieve of only 400 pounds.
Not even ten minutes later from the weigh station, another blowout – this time the drive tire on the passenger's side.
I made it to another Love's to get the tire changed. I also shifted the rear tandems forward to spread out the weight.
Surely I would be good now. But really not quite.
Boom, a third tire blowout – I couldn't believe it. Whoosh…flap…flap.
Apparently all three of the tires that blew were retreads. Though they looked great, new tread was glued onto old tires and with heat and weight, the tread could become separated causing the tires to blow.
Two of these tires that blew were on the side axle on the passenger side. What was worse was installing a new tire next to an older one. The older tire could not shoulder the weight of the newer tire and thus would overheat and blow.
That's when I realized how Sam had easily ruined two of my drive tires when he applied the parking brake while stepping on the accelerator. They were retreads and that's why they were prone to wearing out.
When the third tire blew, I was only 50 miles from the Florida border. I had come so close – I wasn't going to stop and get it changed out now.
I immediately slowed down to 45-50 and kept that speed all the way to TIAA Bank Field in Jacksonville.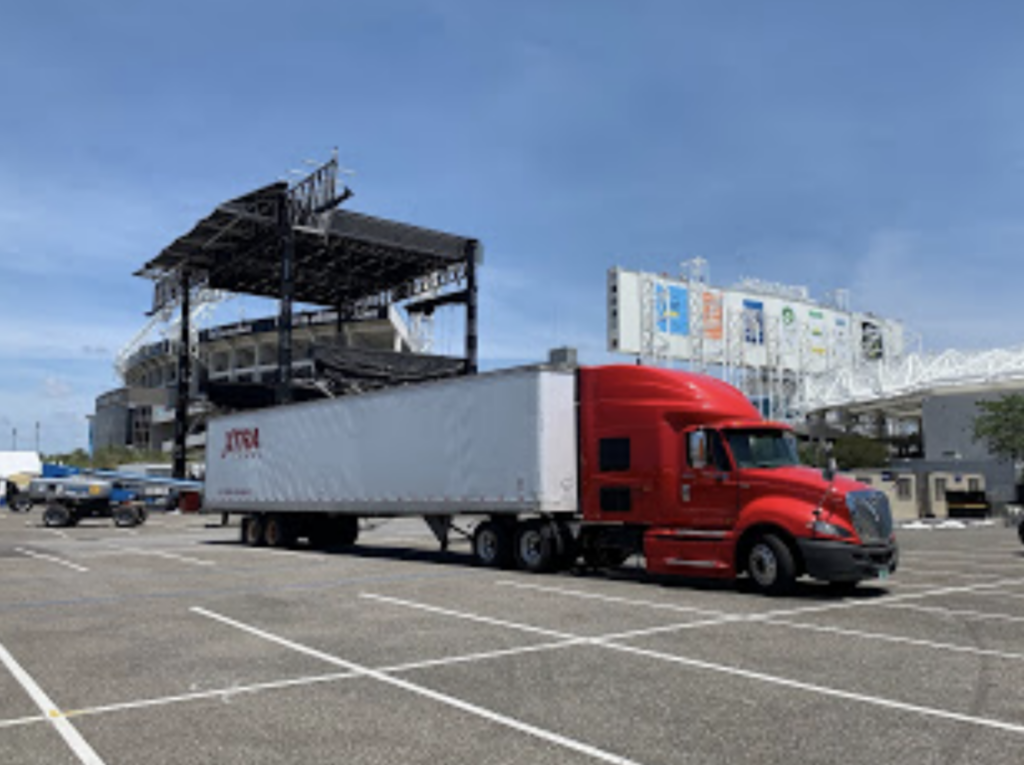 I had made it. They would be able to get everything setup for the Rockville Concert this weekend.
I couldn't be happier to be in sunny Florida. And first I needed to find a shop to change out the flat as well as the remaining retreads.
Then, after visiting the beach, I would need to find a load to get back to DC, soon.