The music reverberated majestically as a group of fashionable millennials gathered over booze and cocktails, their bodies swaying to the beat. Federal employees by day, party-goers by night, this eclectic group knew each other like one's own flesh and blood. They were frequent attendees of meetups and networking events that transpired nightly in cosmopolitan DC and like a pack of wolves gathered to bond over a meal and spirits.
The Manor, a restaurant and lounge by day, transformed into a sleek cabaret by night – sprawling, quirky with a unique mezzanine overlooking the bustling bebop with towering windows facing the nonstop ruckus of Connecticut Ave.
Other guests were hanging out in the VIP section adjacent to the antique fireplace, lounging on weathered ottomans. Relaxing on a sofa with red high heels nursing a glass of bubbly was Zaylee, my tenant at Lebaum St. She attended virtually all my events, and she didn't come to catch up on rent.
In the middle of the club, a large dance floor with a wild strobe light and hot bodies gyrating to the beat from one of DC's premier DJ's.
"Another rad event under your belt," Quentin Cummings, my neighbor in Anacostia yelled over the music. A fellow runner and military vet, he had gone on long runs with me at nearby Joint Base Bolling and by now we were due for another one.
"Had a fantastic time," added Wayne Manigo, a ubiquitous stand-up comedian, as he gave me a firm pat on the back. "Next time we need to host a comedy show together."
"Yeah, there's too much love in the air right now. Comedy could be the right medicine to cool things down," Jason Morenz, the absolute photograph and marketer added.
"Couldn't have done it without you all, and thanks for inviting your friends," as I raised my pint of Guinness. "Attendance was through the roof and the booze flowed like the Potomac."
Then I took a huge gulp of my brew, large enough to break through the creamy head, embracing the milky froth that created an adorable foamstache over my lips.
Meanwhile Jason was shooting high-speed dance floor photos, both stills and GIFs. Photography was essential because many of the pictures were posted on the company's website and social media portfolios. We operated by the mantra: "Pics or it didn't happen."
Tonight over 200 attendees gathered from near and far, some were free loaders who bounced from one meetup to another, bonding over food and drinks. But most were foodies and socialites, including some movers and shakers. Even restaurant owners such as Ryan Gordon from the Queen Vic and Armin Armin from Chaplin's were in attendance.
"Hey Ryan, will you be bringing your double decker bus back to the H Street Fest this year?" I asked. Ryan nodded giving me a high five. The H St Fest is the quintessential 10-block street party in the city and the British-themed double decker bus in front of Ryan's pub where Newcastle Brown Ale flows like the River Thames is the hippest place to be.
Armin Armin, all 6'4" of him was a gentle giant with a huge heart. He had an open ear for anyone willing to make small talk and a gin and tonic on the house. He did this regularly at Chaplin's, a high-end ramen house and cocktail bar in Shaw as well at numerous networking events throughout the city.
"Last week at Chaplin's a jovial guy with deep pockets walks in and ordered Green Tea Shots for everyone," Armin said. "Suffice it to say, everyone had a splendid time."
"Oh yeah, what do they taste like," I responded. "And do they get you drunk faster than Dragon Soop?"
"We shall see," he added. "Be right back."
Wayne muttered under his breath, "It's Jameson mixed with Peach Schnapps. Trust me, you won't be disappointed."
He returned with half a dozen shots of Green Tea, and the group immediately started chasing it down like it was soda water.
"Mmm, delicious!" I exclaimed. "And quite filling. Thanks for adding another tasty drink to my overflowing repertoire."
For the last 24 months, we had hosted well over 75 events ranging from sports viewing, happy hours, food tasting, food blogger, political networking events, and fund raisers. We even organized belly dancing shows at the Lebanese Taverna and running events where we would happily gather at a local pub after running 3-5 miles. We swore to the fact that DC Brau corruption was the perfect post-exercise recovery drink.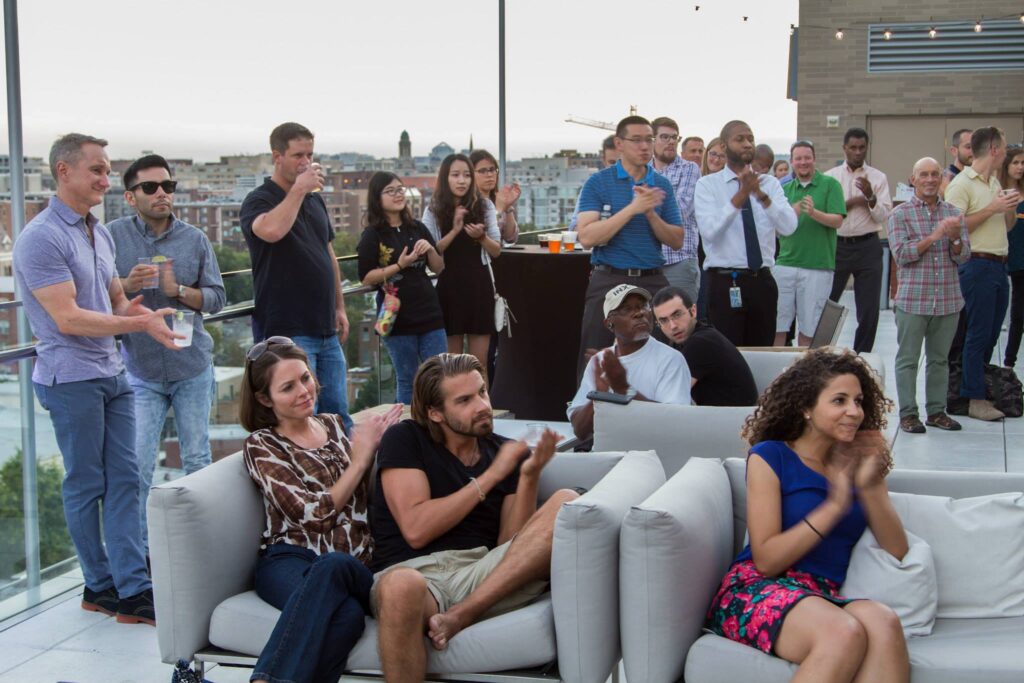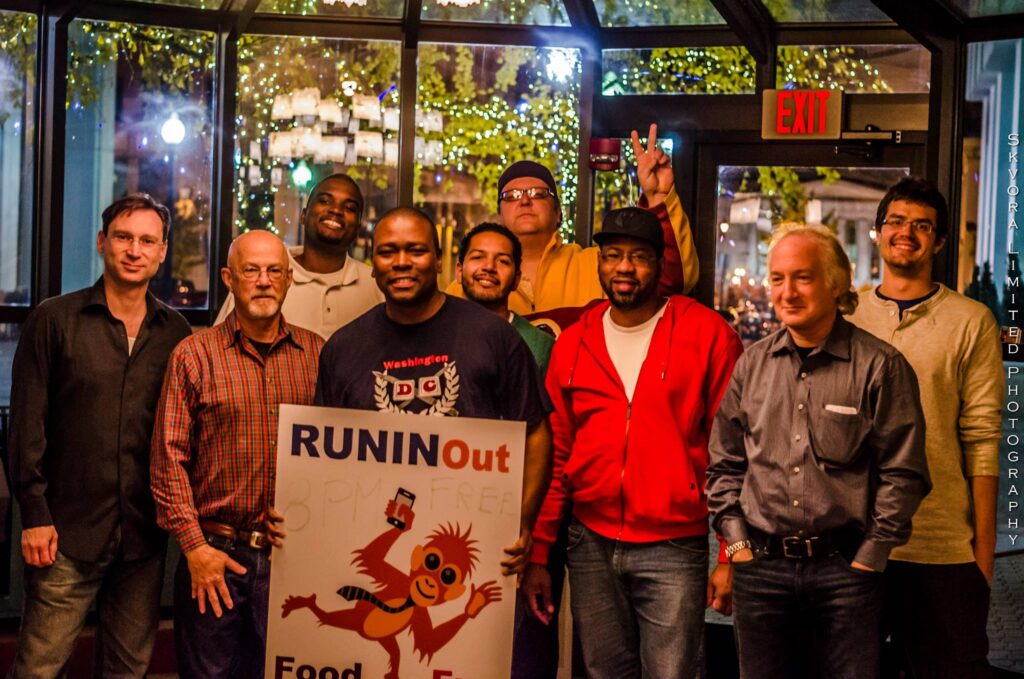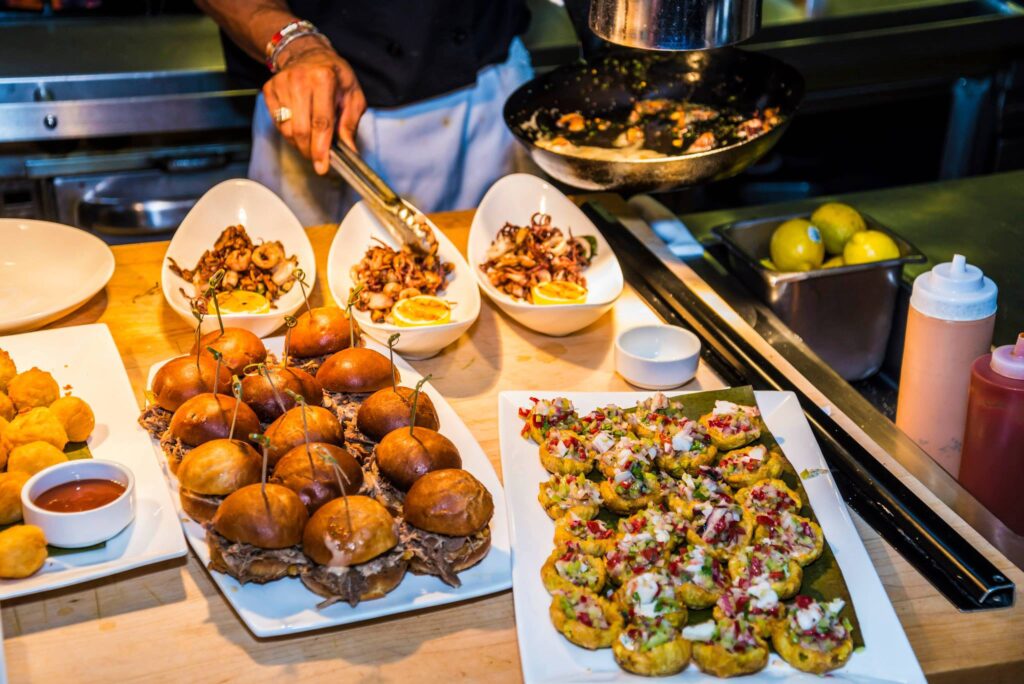 Almost every type of cuisine, category and location in the Beltway was covered, every single notch in my belt, worn and weathered like distressed Buffalo leather.
"Maybe you should host a truckeroo next time," Jason suggested.
"Food trucks – no way. I have no interest in dealing with noisy trucks or those screaming generators."
"Don't dis 'em trucks. If it wasn't for 18-wheelers, you wouldn't be able to get all the grub and booze delivered to all your events on time," Jason added.
He was right. This was quite an operation and everything had come together like clockwork. And that was noteworthy for a city entrenched in bureaucracy and congestion.
Hosting events were a lot of work, and pulling them off with the right food, drinks, atmosphere and attendance was no easy task. But it was fulfilling and a tremendous learning experience, and I was starting to feel a bit burned out
But at the end of the day, events weren't our business model. RUNINOut was about discovering restaurants online, not hosting meetups for the DC millennials.
And now that the website was saturated with DC locations, it was imperative to get outside of the Capital Beltway and expand to the burbs and beyond.
Maybe even to the foothills of Northern Virginia.