In the evenings we would set up shop at different incubators or at a co-working group called the Nightowls which was held at several locations and co-working spaces in town. On this particular evening, we were working up in the 1776 incubator space on 1133 15th St. NW.
This is where I would run into fellow entrepreneurs such as Justin McLeod and Bennett Richardson from Hinge, Dan Berger from Social Tables, and Anton Gelman from Cont3nt.com.
Pets weren't allowed, but it wasn't like me to follow rules. From time to time, I would bring Apollo, my sun conure to keep things lively during the late-night jam sessions.  
"Hey we're night owls, not sun parrots. Woo Hoot," came a witty voice from the peanut gallery.
"I thought that your logo is a monkey, not a damn parrot?"
"It's neither. It's actually a baby orangutan," I responded. "And my little bird is my sidekick and co-founder, and he can fly circles around you."
Apollo was indeed a playful, social partner and a nice digression from brainstorming and side hacks. Having the multi-colored parrot fly around the room and interact with other overtaxed entrepreneurs actually inspired creativeness.
"We're not just about food, we're about fun," Suzannah added.
One night, Suzannah invited her friend Sonia Herrero, a creative artist, yoga teacher, musician and dancer to join us for our buzz session.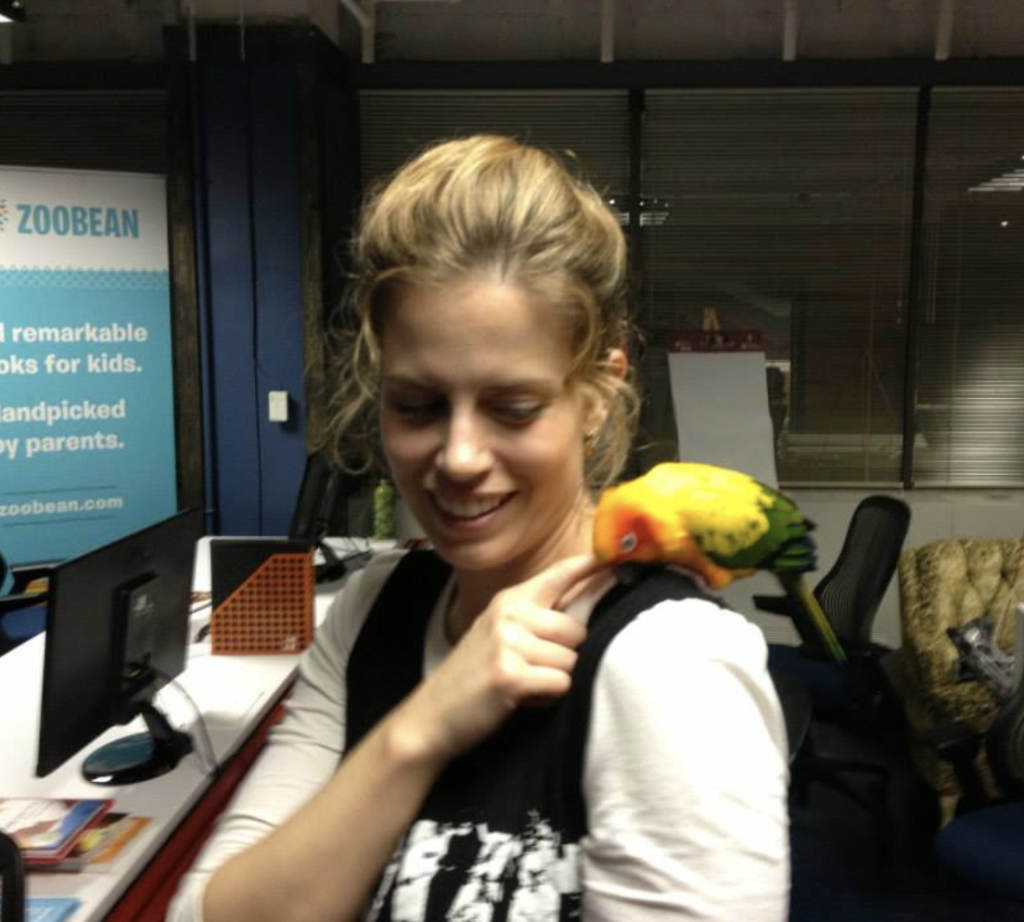 "Love how he's chewing on my hair," Suzannah said.
"Yeah, that means he likes you," Sonia stated. "It's a sign of affection and trust."
"He's actually preening you – just like how he preens his own feathers to keep it clean and neat," I added.
Apollo then flew to Sonia's shoulder and started squawking for attention.
"Hope he's not too noisy. He's louder than a Macaw in the mornings and serves as my dreaded alarm clock when I'm trying to sleep in."
"Ok, Apollo, you're too cute and cuddly, but it's time to socialize with other Night owls. We have to put on our thinking caps." Sonia used her hands to shoo him away and he flew away to find a new friend.
"RUNINOut has to go beyond Food and branch into Fitness. Have you thought about doing yoga?" Suzannah asked.
"Good idea. I'm hosting a rooftop yoga session at the Mellow Mushroom in Adams Morgan next week," Sonia added. "You're welcome to join us?"
"Apollo and I will be there — bright-eyed and bushy-tailed"
"So RUNINOut's slogan is not just food and fun, it's also fashion," Suzannah said. "As in colorful costumes and outfits."
"Like an exotic dancer's chiffon. Say you should also consider belly dancing, that would really broaden your horizons, both figuratively and literally," Sonia added. "There's a Turkish eatery called Tel'Veh in NOMA where I've performed before that could use your help."
"Whoa, you should stay in your lane. Your logo is a running orangutan that resembles a clueless monkey. You carry a colorful parrot on your shoulder to Nightowls," Jason responded. "Now you're adding belly dancing to the mix?"
"Yeah, people definitely need to start taking us seriously. That's probably why I get so many rejections during my cold calls. I often hear 'No, thanks, we don't want to be featured on your site,' and 'if it's really free, then how do you make money?'"
"Tell them you make money from building websites, managing their social media profile and selling advertising," Sonia replied. "And you get paid for hosting events."
"Perhaps you should start doing demos. Present at the D.C. Tech meetup, Tech Breakfast, etc."
"And you ought to stop making cold calls without me. I need to tag along and do all the face time, while you work on all the stuff behind the scenes," Suzannah said. "Remember I was able to convince Jeepo from the Biergarten."
"I couldn't agree with you more. Both you and Apollo are a lot more pleasing to the eye, and together you can sell everything but the kitchen sink."
"Which restaurants should we target?" Sonia asked.
"D.C. has a large celebrity chef talent. I would visit Mike Isabella, Morou Ouattara, Marjorie Meek-Bradley, Roberto Donna, all top chef alumni," Suzannah replied. "Getting your site associated with their reputation will give you instant credibility."
"Roberto Donna? Didn't he plead guilty for meals tax embezzlement and accused of underpaying his staff at Bebo?" I asked.
"Yes, but people don't care about that. They like hanging out with big name chefs. He's won a James Beard Award and was once bigger than Jose Andres," Jason replied.
"For restaurants to start taking you seriously, you'll need to show them some formal validation besides Twitter engagement and Facebook likes," Sonia added.
"Hey, I got an idea. Why don't you submit RUNINOut for the Washington City Paper, Best Restaurant App contest next year," Suzannah recommended.
"That could be challenging. You have to advertise and market to get people to vote," Sonia said.
"So how do we get the word out without paying a bundle?" I asked.
"Post on Facebook, Twitter, Instagram begging people for their votes."
"And we could also ask guests who attend our events to give us a vote of approval. Heck if they enjoyed the food and had a good time, don't see why they wouldn't oblige," I added.
"And also the traditional way, putting signage around town to reinforce the message," Sonia added.
"That's another reason why you should buy a pedicab," Jason suggested. "Tack on a large sign on her and ride her all over town."
"Pedi… what?" I asked.
"A small pedal-operated vehicle that you can transport people in and plenty of room to store your stuff and chill out."
"That's brilliant. It's not just a taxi company, it's an advertising agency!" Suzannah exclaimed.
"All terrific ideas. My head is buzzing from all this brainstorming. Let's go down to the Green Lantern and tie one on."
"Not tonight. I'm not in the mood to visit gay bars. But why don't we meet up at Meridian Hill Park Sunday," Sonia suggested. "Rhythm in the Park starts at 3."
"Well, I was planning to go paddleboarding with Georgia on the Potomac."
"Awww! Bring her to the park after your paddle. They'll be lots of drummers and dancing till late, it's quite spiritual and uplifting, and I'm sure she'll enjoy it, too."
"A Bientot."