Training in the Front Royal range was like camping. We were 15 minutes from campus and there were no bathrooms except two porta potties that stayed full and full of odor. One was for Sherry and the few females who trained with us like Martha and the other for the rest of the blokes. Luckily, the range was located next door to a beloved Thai restaurant. Ben's Family Cuisine located on the foothill of the Skyline trail.
On this day, the lunch time air horn sounded Bon Appéti, and I rolled out faster than a lumbering truck on 3rd gear. As usual, Satya Ben greeted me with a hug and Martha and I felt like family.
To say that Ben's Family Cuisine is located off the beaten path is an understatement. Located behind the CDS driving range, it's easy to see why many could be distracted by the rumble and tumble of large diesel trucks as they maneuver all around the yard as big as three football fields.
But once you find it, it's like an oasis in a sandy dune. Like the name implies, Ben's Family Cuisine offers a warm friendly ambience in a bustling environs. As you walk in, you are greeted by a beautiful painting of a breathtaking Thai landscape and there are fresh flowers on every table. There's plenty of space inside for your group or family to stretch out, or on a nice day, you can enjoy the views of the majestic Blue Ridge Mountains.
There's also a patio with a high fence nestled by a line of trees where you hear but ignore the hustle and bustle of trucks across the field.
Satya "Hope" Ben is the owner and has been dishing up delicious dishes from Southeast Asia for over 25 years. Her menu is prepped daily to guarantee freshness using only high quality ingredients to ensure that their flavors are at their peak.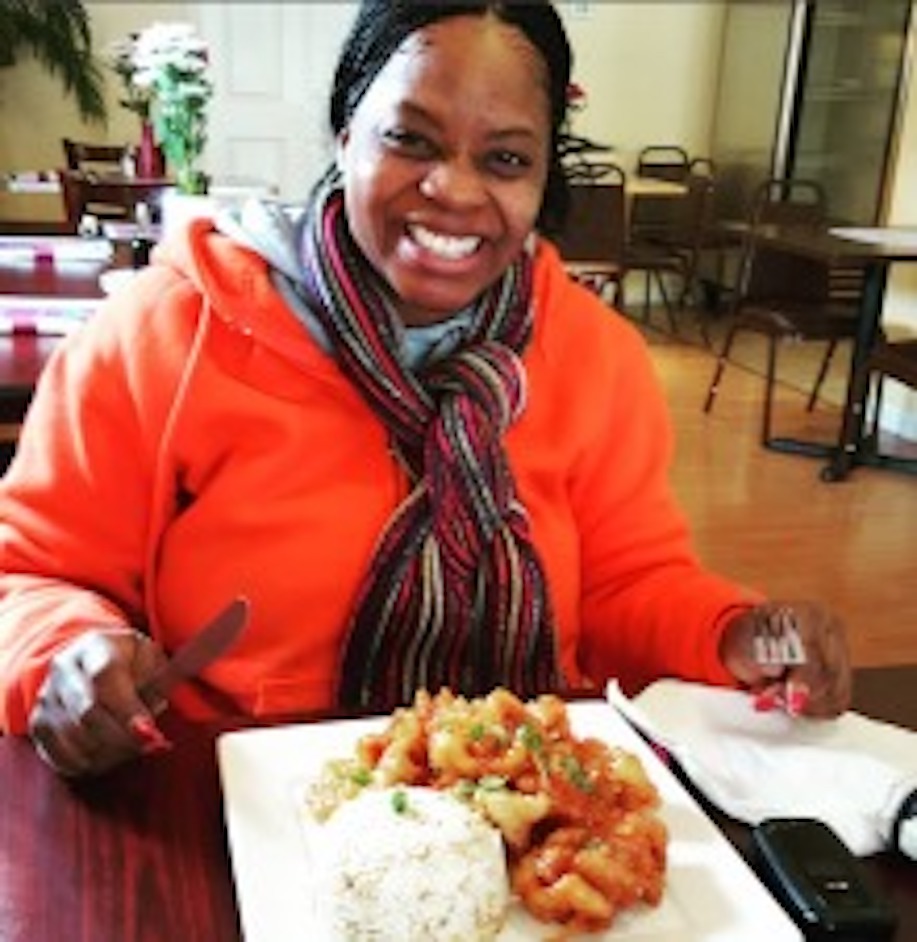 We started with the spring rolls – they were crispy and fresh, sprinkled with ground turkey, cilantro and carrots.
"What are you trying to do – stuff me up so I can't fit into the front seat of the cab," said Martha.
Then Martha ordered the seafood stir fry which was zesty, succulent and filling. She could barely make it half-way and realizing the lack of modern restroom facilities at the yard decided to take a doggy bag.
[ Image: Ben's Family Thai Cuisine.jpeg ]
Martha enjoying the seafood stir fry at Ben's Cuisine, Front Royal, VA
I ordered the Drunken Noodles with shrimp – 3 peppers out of 5 and boy those juicy Thai peppers were hotter than the engine exhaust pipes from the Volvo. I had to order a 20 ounce glass of Singha just to put out the flames. No wonder they call these noodles drunken.
After lunch I thanked Satya Ben, the owner, and quickly skimmed over her website.
"Your site design is great. The menu is very readable and the font type is inviting and mouth-watering," I complimented.
"My only beef is with the SEO – You don't appear to be using the Yoast plugin, so the menu is not fully optimized for search."
"SEO?" She stared inquisitively.
"Search Engine Optimization – improving your ranking on search engines like Google, Yahoo and Bing. "
After this, I went over Ben's Google Business profile with Satya showing her how to update her info and responding to reviews.
Before I knew it I could hear the roar of a turbocharger in the distance. A half an hour had passed and Martha was probably already seated behind the wheel, mashing the clutch.
I rushed back to the range to the usual straggle of trainees waiting for their turn to play cowboy trucker.
"Where have you been," Todd exclaimed furiously.
"I've been eating at Ben's Cuisine next door," I answered. "You should go there sometime. The food is affordable and the beer is frosty cold."
"Yeah, I know Martha brought back the stir fry which I enjoyed but she, unlike you got back to school on time."
"Well, I had some business to take care. And after all, we're all here for ourselves so if I wanna come back late, that's on me.
"You're a disgrace to the class," Todd declared.
"F*ck you!"
"I should call the police on you for drinking and driving," he warned.
I didn't feel like I needed to explain my absence to my fellow classmate. My only responsibility was to myself and to my instructors. To hell with this – I'm done with school for the week. Glad to be returning home to my tenants and properties. I would never get in the cab of a truck with Todd ever again.
That was it. I had enough of backing and gossiping for the day. It was now time to air my thoughts while going for a quick run. For now, I had to ween myself from the pack and engage myself with my inner monologue. I would be hosting an annual charity run in DC in May, so I had to stay in shape to lead the pack.
I often ran around the yard, away from the big trucks or even around town for a mile or two. Perched in a driver's seat all day is unhealthy so it's smart that I start exercising from the very beginning, if I expect to sustain a long career as a trucker.
Running also controls stress and it helps me contemplate and figure out life's problems. Still debating whether I should pursue a future in trucking. After a 20-year career in the Navy and founding a startup company, driving a truck doesn't seem to be the right fit. I'm in my element whenever I'm leased to my laptop with a fast internet connection, making websites for clients, rather than delivering freight for customers.  And whenever I'm driving, I wouldn't be able to go online, check my email or post on facebook, instagram or twitter. The thought of abstaining from social media is worse than the notion of alley docking into the tightest spots in Jersey City or NYC.  And worse, like Sherry had told me…life on the road can be lonely and monotonous.  I sure miss hosting events, seeing old friends and making new ones.  Would I meet new friends on the road?